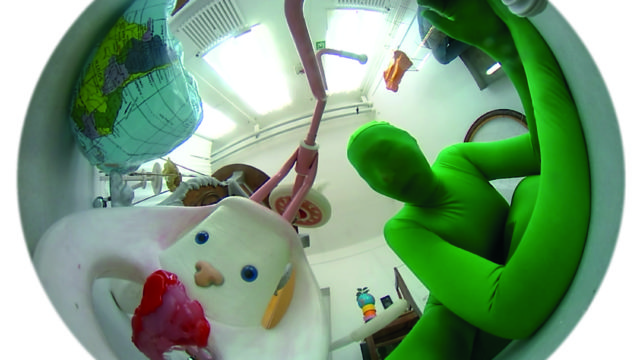 In 2018, I brought the department store research of shifting constellations back to the private studio. Here, the next step was a video documentation of performative shiftings of objects with an audio commentary.
I had already used video for documenting some occasions in the window. Now, I documented eight days of improvised performative shiftings in my studio. Later, I added audio commentaries in German and English (my mother and father tongues) while reviewing the rough cut of the video (50 minutes).
Then, I reviewed shorter sequences with peers and recorded their audio commentaries, as well as non-commentary soundings and improvised foley.
In the first finished part of the video11, a mixture of these commentaries is adding up incentives for possible interpretation. The layered commentaries result in a "diegetic presence", according to Klaus W. Eisenlohr, who curated a program of my video works in November 2019 (Directors ́ Lounge Berlin). He describes this work visually:
"The video starts with an almost empty space that will be filled more and more with objects. Bigger objects like pieces of furniture on casters, a hamster cage, a wheel and smaller objects
like shoes and kitchen objects are being set into corresponding relations. These are being moved, keeping an intense aesthetic tension between them, in each new setting, and in relation to the performing artist, seen from changing points of view by different cameras. (…)
The relations between objects and protagonist are balanced in three dimensional compositions like a perfect stage design, taking into account the viewpoint of the camera, always."
I find it interesting to notice that I was deliberately not keeping track of the cameras, and not thinking about the possible meaning of a placement of the things. I was thinking about relations, though. Also in these improvised shiftings, my foremost motivation was to leave the repetitive cycles of the known.
"what matters" is an exploration as well as a digestion of the narcissism in my family background. Having been the scapegoat and later the outcast of the family, I have learnt to become invisible. I have been used and abused by others as a projection panel to externalize their flaws and failures.
As a metaphorical translation of this observation, I chose a green screen suit as costume. I explored this metaphorical transfer in practice. Through acting and being witnessed in it, meanings emerge, which I captured by asking the audience for commentaries. In asking for feedback, I usually do not focus my question too narrow, because I try to capture feedback in an undirected way.
The choice of the green suit did result in many questions and commentaries, and some of these reflections are integrated in the first part of the video.