video observations on theory
dear commodity
2010, 7 minutes, mp4
video:
On an advertisement pillar, images of a female and a male foto model, on opposite sides behind glas. In reflections on their faces, the every day movement of a street in Berlin, Kreuzberg is being mirrored. In slow video crossfades, the two faces merge into one another.
audio:
"The Fetishism of Commodities and the Secret Thereof" by Karl Marx (The Capital, Book 1) read during masturbation.
°
without character
2010/11, 4m30, mp4
image:
A merry go-round at the metro station Les Halles in Paris stops while masses of people are streaming in and out of the metro entrance at an increasing speed.
sound:
Quotations taken from "The Man without Qualities" by Robert Musil, first published in 1930/1932, read under the blanket at night, mixed with the sounds of taking a walk. (German spoken)
°
occupy žižek
2011/12, 2min35, mp4
Audio edit, based on a speech that Slavoj Žižek held for Occupy Wall Street on October 9, 2011 that was amplified through the "human mic".
Which form of leadership do we need today? In my edit, the human mic gradually takes over, moving from amplifying Žižeks words towards anticipating them or maybe even thinking them together.
°
weeding sontag
2012/13, 3 min 25, hd
Social reflection with Susan Sontags "On Photography":
Why do especially "people handicapped by a ruthless work ethics" like to take pictures?
Why does it seem to be so empowering to capture an image (or anything else, by the way)?
Weeding sheep are staring back at me staring at them, through my camera. A slug crawls through the image, taking forever in fast forward. I dance with the weeds.
°
after the other
2017/18, 6min55, HD
audio: quoting Michel Foucault, "Of other Spaces: Utopias and Heterotopias"
as published in "Architécture/Mouvement/Continuité", Oct. 1984.
video: listening to a stone on the site of a deserted cement mixer
°
windig
2017, 14min24, 2-channel, hd
Video documentation of an artistic residency with focus on sustainability, capturing moments of work and leisure, commenting with text excerpts by Walter Benjamin, Käthe Kollwitz, Herbert W. Franke, Bert Brecht and Paul McCartney.
°
butler pop
2009, 21 min, mini dv
Quoting Judith Butler, "Psychic life of Power".
Four people living and working in Berlin associate freely about the role that work has in their lives. Meanwhile, a hand is painting the sky and the movement of the clouds and in the background, you hear the sounds of a construction site.
Juxtaposed, video observations of various working scenes
in Rio de Janeiro, Brazil while a voice-over reads quotations of
"The Psychic Life of Power" by Judith Butler.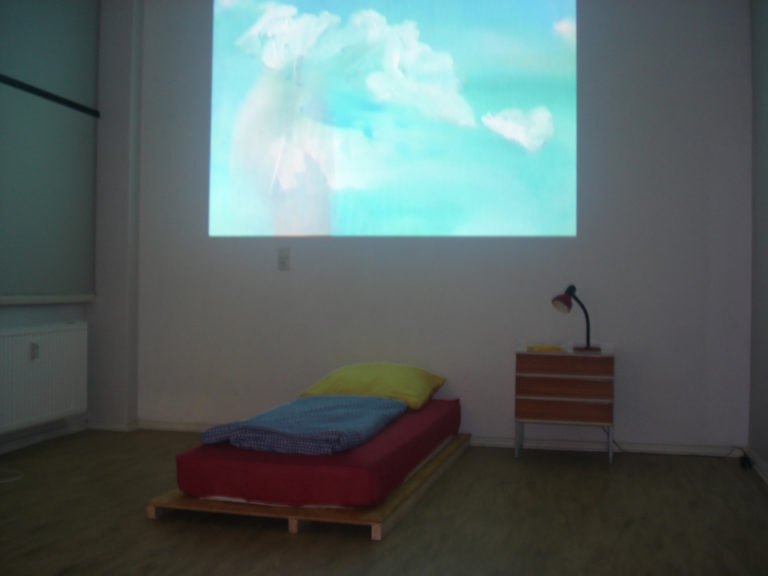 video installation in a found setting at ProjektZentrale KurtKurt, Berlin
December 2009 in the exhibition "Pumaherz. Vollzeit, unbefristet", initiated by Elke Scheler