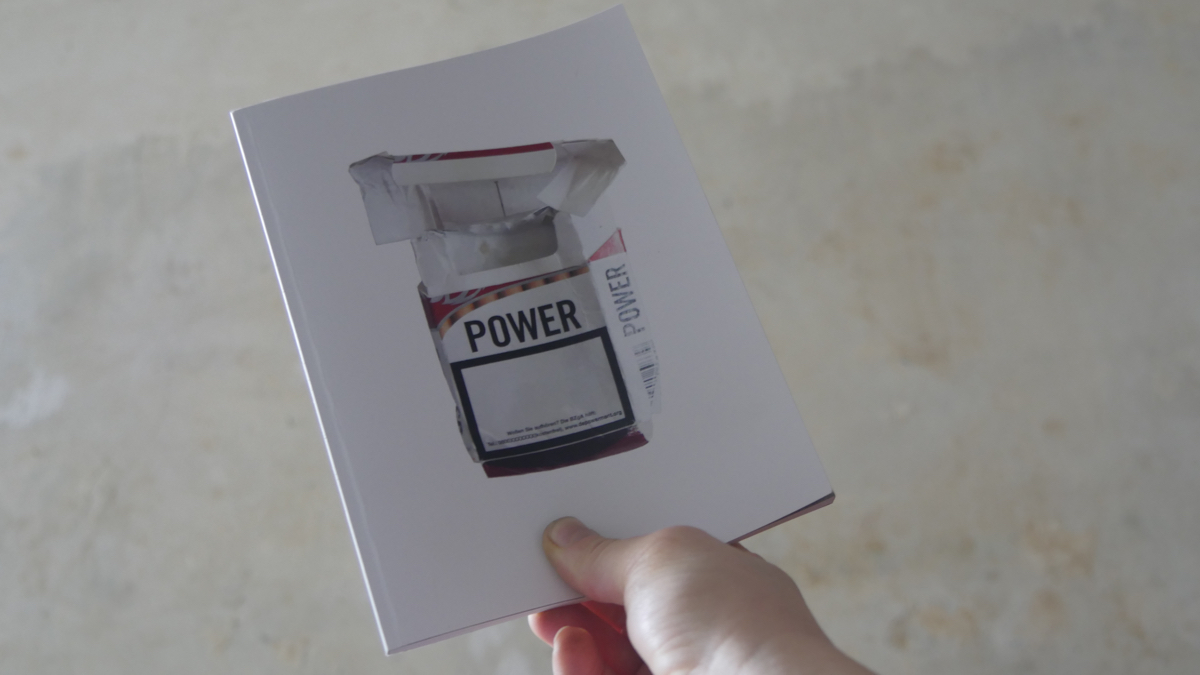 depowering explorations
How can we level out power imbalances that keep us divided,
and separated from a peaceful and solidary life on this planet?
What is the leverage to do something from a powerless position?
And once in power, how do we avoid recreating vicious circles
of power games, power addiction and abuse?
How can artistic practices and attitudes support this process?
This book is a call into action, unfolding into an ongoing collaborative artistic research practice.
a depowerment manifesto
(56 pages, b/w, illustrated, thread stitched, coloured soft cover, first print edition of 50 is sold out)
download the pdf of the first edition here
*
The word "depowerment" is currently being tested on its practicability.
The following print editions of "a depowerment manifesto" will be updated accordingly.
*
July 2017
St. Hanna zu Thun und Lassen is preparing a depowerment manifesto
*
August 2017
St. Hanna zu Thun und Lassen is collecting illustrations for a depowerment manifesto at the summer party of APAB at gr_und, Berlin
*
August – October 2017
St. Hanna zu Thun und Lassen is writing a depowerment manifesto
*
November – December 2017
Agnese Bordjukova and St. Hanna prepare for the depowerment research #1 in Nice and Monaco
depowering the empire, performance video, 13 min 20
*
February 2018
Agnese Bordjukova and St. Hanna hibernate at betOnest in Stolpe, Uckermark

sandhill moves, performance video, 4min33
depowerment research #1
Booklaunch on February 25, 2018 at Somatische Akademie Berlin
A two-hour depowering session, facilitated by Latvian dancer and choreographer Agnese Bordjukova and St. Hanna zu Thun und Lassen,
combining an embodied research practice with a reading, video screenings and options for feedback and exchange.
*
March 2018
A half-hour condensate of this session was offered at the winter symposium
of Circle 7 – Artistic Research – of the Nordic Summer University in Riga, Latvia
*
June 2018
St. Hanna zu Thun und Lassen publically edits and comments "The 48 Laws of Power"
on the window panes of the department store window "Donau Ecke Ganghofer" during the Neukölln art festival "48 Stunden Neukölln"
Flaws of Power, window writing, 2 hours
*
Since May 2018
Preparations for "a public dreaming", a participative audio piece to research in the body how to collectively survive capitalism,
with Bernhard Wöstheinrich, Anna Nowicka, Erin Christine Bell and many others.
*
March 2019
"public dreaming" incubations in Vilnius, Lithuania (European Humanities University)
and Amsterdam, Netherlands (Performance Philosophy Biennial, Universiteit van Amsterdam).
*
for updates on this and related projects, please sign up for the newsletter